Located just a short distance away from our stay is the Tenjinbashi-suji Shopping Street. It is a 2.6km long shopping street that starts at from Tenjimbashi-suji Rokuchome Subway Station and leading south until close to the Tenjinbashi Bridge. Inside this arcade, there are approximately 600 stores, old fashioned diners, cake patisserie shops, traditional tea, china ware, snacks, toiletries and makeup and even knife shops.
Look out for the dolls at the entrance to this shopping street.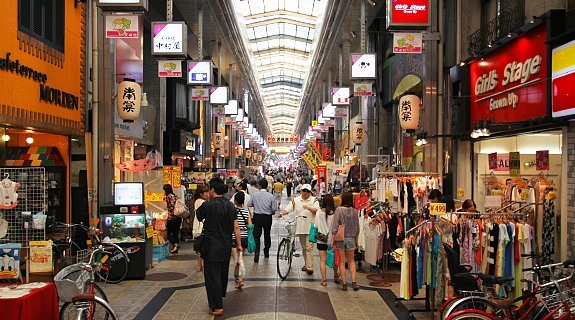 Tenjinbashi-suji Shopping Street


We were so hungry by the time we checked in the airbnb stay and walked through this street in search for good japanese food. Whilst checking out the street, we also noticed that there were a few side alleys that provided authentic local dining experience. The neighbourhood atmosphere was so different from the main tourist streets. However, in order to eat at one of these authentic privately owned restaurants, you would need to be able to converse in Japanese or you will be turned away.It was this restaurant which caught our eyes and it was still packed at 9pm!
Outside this restaurant, we found boxes of seafood which contained crabs, big clams, oysters, fish, snails etc. and were attracted to the selection of seafood. We noticed that most of the customers are locals. The waiter spoke to us in japanese at first but switched to chinese when he realised we could speak chinese. The 3 friendly waiters from this restaurant are actually Chinese whilst the chefs are Japanese.



We ordered the grilled crabs, salmon roe and salmon slices don, clams soup for the night.


The above costed us only 1,380 Yen, or about SGD$17.50! The food is FRESH, Tasty and very value for money. The clams soup was by far the best I've tried. Crabs were so tasty that I'm still salivating whilst writing this post. The salmon roe was crunchy and salmon slices were thick. I do not fancy eating wasabi in Singapore but I found the ones in Japan nice as they are freshly grind and do not cause me to tear or cough. From that night onward, we visited this shop frequently for supper til the waiters could recognize us! Haha.
Note: Opening hours are from 11:00 till  23:00hrs. Last order is at 22:30hrs.
Not far from this shop, we found big fat yummy japanese strawberries for 280 Yen. 🙂 Happiness for our tummies.


I have posted some photos of the other shops along the main street. You would be able to find shops selling japanese mochi in assorted flavours : Matcha, Sesame, Chocolate etc. and most of them allowed free sampling. The powder provided isn't like the typical sugared peanuts that we have here in Singapore. It was really powdery and fine and the mochi itself was sweet. We bought a stack of different flavours home anyways!
The Red bean Paste fish or Taiyaki was really nice too!